I love pens.
I always get caught-up in the pen/paper aisle in any store
looking at all the pens.
When I want to buy a new pen... it takes me FOREVER
to decide on just one..
It has to be perfect.
I look at color of ink, (I usually go for the blue)
I like to know how it will write. I usually don't like fat and bold writings, like the JELLYROLL gel pens from Japan. I like them, but not always 'cause they smear easy and they are a mess.
My favorite brand I would say is PILOT. I think the PILOT FriXion erasable pens are awesome...
way better than the old school erasable pens by PAPER<3MATE. lol
My favorite is PILOT G2 in blue ink. =)
Here is a picture of my pen stash.... HA HA...
And here is my favorite brand pen....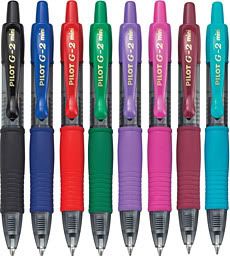 and this is my favorite, favorite, fountain pen by LAMY that my boyfriend Marco gave to me for a gift. I love it so much. It's a lot of fun to use.